About Shooters.io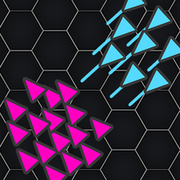 Description:
Shooters.io is a thrilling multiplayer IO game where you take control of a small spaceship in an intense battle for survival. Engage in fast-paced combat as you navigate through a vast open world and compete against players from all around the globe.
Gameplay
Team up or go solo: In Shooters.io, you have the option to either join forces with other players or embark on a lone journey. Work together with your team to strategize and defeat rival factions, or prove your skills as a lone wolf, dominating the leaderboard with your superior combat abilities.
Upgrade your ship: As you progress in Shooters.io, you'll earn points that can be used to upgrade your spaceship, making it more powerful and resilient. Acquire various weapons and shield enhancements to increase your chances of survival in the intense battles.
Features
Intense battles
Engaging PvP combat: Engage in fast-paced PvP battles against real players from all around the world. Test your reflexes and aim to become the ultimate champion of Shooters.io.
Open world
Explore a vast world: Immerse yourself in a visually stunning open world filled with challenging obstacles and opportunities. Discover hidden treasures and unique power-ups that will aid you in your quest for victory.
Customization options
Personalize your spaceship: Stand out from the crowd by customizing your spaceship with a variety of skins and cosmetic upgrades. Show off your style and make an impact in every battle.
Join the Battle
Are you ready to dominate the leaderboard? Join millions of players in Shooters.io and prove your skills in thrilling battles. Whether you prefer teamwork or solo domination, this game will test your strategic thinking and combat prowess. Can you rise to the top and become the ultimate space conqueror?
A: To start playing Shooters io online, go to the game page and follow the on-screen instructions, typically by clicking the "Play" or "Start" button. Registration is usually not required to begin playing.
A: Control of your character or object in the Shooters io is typically done using the keyboard (e.g., WASD for movement) and the mouse (for aiming and actions). Additional control buttons and settings can be found in the in-game menu.